Our last two local shows for a long while.. - Breakdowns
Aug. 9th, 2005
08:19 pm - Our last two local shows for a long while..
http://www.myspace.com/beautyinchaos





This is an all local show and our first headlining show ever. Please come out and support! Our friends from Miami are coming down and it is also their first time playing Tampa, check out all the bands on myspace, they all have songs to download.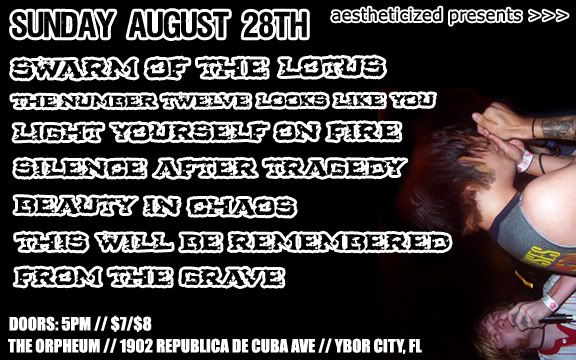 This is going to be our final local show for at least 2 or 3 months unless something huge comes up. It's with a few of our local friends and The Number Twelve Looks Like You and Swarm Of The Lotus are headlining. It's an early show so even though it's a sunday all you kids can come out and have a good time, it will be over by 11 at the latest.


We would really appreciate it if everybody would come out and make these shows special. Thanks!